Pain is one of the common concerns our patients have prior to having dental implants. As with any other dental procedures, some level of discomfort is likely involved during the process, however, with the use of new and improved local anesthetic and our skilled Dr's, you shouldn't feel any pain during the procedure. Even after the procedure, once the anesthesia effect has worn off, most of our patients report very little post-operative discomfort. We have developed an amazing protocol for both our surgical procedure and our pain management with non-narcotic medicines so that our patients can have the absolute best experience possible. If you would like to speak to one of our patients about their experience, please call our office and ask for a reference and we will be happy to provide it for you.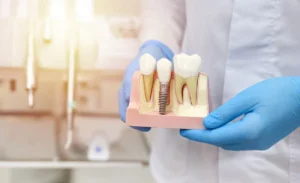 The process of placing dental implants and allowing them to heal can take place over the course of a few months up to a year. There are varying degrees of complexity when it comes to placing and restoring implants. If a bone graft or sinus lift was performed before the dental implant surgery the length of healing will be longer and a little more discomfort will be expected.
Dental implants are considered to be cost-effective as they should last a lifetime without needing replacement as long as you give them optimal care daily and continue to have them professionally cleaned twice a year by a well trained dental hygienist. Here at Smiles of Chandler, dental implants are out passion and we will go above and beyond to make sure that you not only have a good experience with the placement of your dental implants but we will work with you to maintain them and keep them in pristine condition for many years to come.